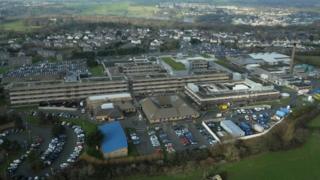 An inquest for a man who died nearly two years ago will not start until a health board takes action to prevent further deaths, a coroner has said.
Simon Willans, 42, died from a pulmonary embolism in January 2016 the day after being discharged from Ysbyty Gwynedd, Bangor.
Assistant coroner Nicola Jones adjourned the case last month for Betsi Cadwaladr health board to respond.
The health board said it was completing a serious incident review (SIR).
In a prevention of future deaths report, Ms Jones said she was concerned about the risk of other people dying because the health board has only just started the SIR.
"The ambulatory care unit, its structure, practices, systems, staff have not been effectively scrutinised following Mr Willans death," she said.
He died on 27 January 2016, two days after being admitted to Ysbyty Gwynedd by his GP as an "urgent case".
'Safety net'
Mr Willans was placed in the ambulatory care unit, with breathlessness, a recent loss of consciousness and his right calf "swollen some 3.5cm more than the left".
While he was diagnosed with low blood pressure and anxiety and recommended to start a course of Betablockers, he died of a pulmonary embolism.
Concerns highlighted by Ms Jones included no record of the consultant in charge examining the patient and an "insufficient safety net" for him, with no information on what to do if his condition got worse.
Nurses did not elicit a family history of pulmonary embolism either.
North Wales Police launched a gross negligence investigation but no prosecutions were pursued.
The health board has until Thursday to respond, giving a timetable of action it will carry out.
A spokeswoman said the health board was in the process of completing the SIR and "it would be inappropriate to comment on the case at this stage".