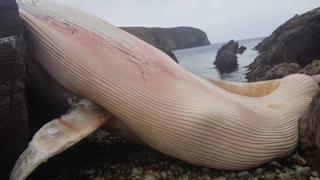 The carcass of what is believed to be a rare fin whale has washed up on a beach on Arranmore Island, County Donegal.
A member of the public reported seeing the 20ft (6m) creature's body splayed across rocks on Saturday night.
The whale's dead body may have been floating in the waters off the island for weeks before becoming beached, said Arranmore Lifeboat's Nora Flanagan.
Fin whales are listed as endangered by the International Union for Conservation of Nature (IUCN).
Dave Wall of the Irish Whale and Dolphin Group said it appeared the whale had been dead for some time before being washed up on the shore.
He said it is not unusual for fin whales to be spotted off the coast of Ireland.
"Ultimately we will probably never know why this whale died," he added.
Fin whales grow to about 26m (85ft) long and can live to about 90 years old.
They can weigh up to 74 tonnes and live on a diet of small fish, crustaceans and squid.