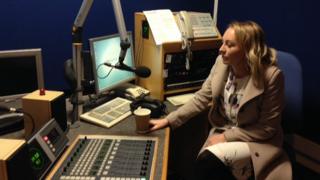 A former researcher at the Welsh Assembly has spoken of the culture of inappropriate behaviour she experienced whilst working there.
Sian Powell told BBC Radio Cymru of three instances when a male AM she was not working for made her feel uncomfortable in the workplace – on one occasion trying to kiss her.
Ms Powell said she did not want young people entering politics to experience what she did.
The assembly has been asked to comment.
'I just froze'
In an interview broadcast on the Taro'r Post programme, Ms Powell said the first instance was a comment from the AM that it was "nice to have young women work in the assembly".
On another occasion, Ms Powell said the AM "came into the office, held my face, and pulled me towards him, so he could kiss me".
She added: "There was another situation where he has just come out of the chamber, and he asked me to come into his office.
"He told me to 'sit down there, don't do anything, I just want to look at you'.
"I just froze in my seat."
Ms Powell said she knew what had happened was "odd", but she was unsure of what to do, or where to go.
"I mentioned it to a more senior member of staff who raised it with another assembly member, who stepped in and told him [the AM who had made the comments] that he was not to speak to me like that again," she said.
Ms Powell called for clarity about the process in which to deal with such matters in the assembly.
"I feel it needs to be clearer if you go and complain to a political party, or to the assembly as a body, or an external body," she said.
"It's hard when you work for AMs or MPs – you never know when there will be an election. If a member loses their seat, you lose your job.
"You hope the party will find you work with a new member, but you worry – if you speak out, no member will want to work with you."
Ms Powell said she hoped attitudes to harassment were changing, but said she was disappointed at those who claimed abuse in the past was tolerated, "because it was a different era".
"We didn't tolerate it – we just had to tolerate it, because there was nothing we could do about it", she said.
As someone who had sent young journalists on work experience to the assembly during her time as a university lecturer, Ms Powell said she was keen to speak out for the sake of others.
"It's in the back of your mind – 'gosh I hope they don't come back with the kind of stories I had'.
"I also hope they would be strong enough to deal with something without feeling they were at fault if something did happen."
Last Monday, party leaders at Westminster agreed to set up a new grievance procedure for staff in the wake of a series of allegations of sexual harassment.
A cross-party meeting at the Senedd to discuss harassment was due to be held last Tuesday, but it was postponed following the death of former communities secretary Carl Sargeant.
BBC Wales understands that Mr Sargeant was not the AM referred to by Ms Powell in her interview.