Crowds of rugby fans were still waiting outside of the Principality Stadium after Wales kicked off against Australia due to heightened security.
More than 70,000 fans were expected for the game, but many complained they queued for more than an hour to get in.
The Welsh Rugby Union (WRU) had warned spectators to arrive at the stadium early to avoid being caught outside.
One fan described the scene as "queuing chaos", while others called for the 17:15 GMT kick-off to be delayed.
Meanwhile, roads in Cardiff city centre which were shut ahead of kick-off reopened at 20:15.
There are additional mainline trains to and from Cardiff Central while local services will have "extra capacity".
The A465 Heads of the Valleys road between Brynmawr and Gilwern is shut.
Extra stadium security checks
Every fan attending the game faced a personal check at the turnstiles as the Principality Stadium had "unprecedented" security measures following "recent tragic events in the UK".
The ground opened three hours before kick-off to ensure supporters did not miss the action because of the increased security.
But many fans tweeted that they were facing long queues to get into the stadium.
Carissa Turner posted: "Let us in to rugby @principalitysta !! Queue is massive and no sign of movement ahead of #WALvAUS."
Tom Chorley wrote: "#WalvAus 45 min queue. Surely delay the game" while Hattie Jones tweeted: "@principalitysta we've been queuing for 65 mins but are still told the queue is more than 60 mins. 5 mins away from kick off. Are there any refunds available?"
Ashok Ahir said: "Queue chaos @principalitysta as enhanced security leads to log-jams at entrance gates #WALAUS."
Stadium bosses had advised fans "not to bring a bag at all" as large bags and large umbrellas were not allowed into the ground.
After the match, the WRU said: "It is important to stress that these security measures are here to stay and we don't want anyone to miss kick off.
"We will continue to urge supporters to allow more time for getting in to the stadium in future, as these checks are vital to the safety of all attendees."
Wales four Principality Stadium autumn internationals:
Saturday 11 November: Wales v Australia (Kick Off 17:15)
Saturday 18 November: Wales v Georgia (Kick Off 14:30)
Saturday 25 November: Wales v New Zealand (Kick Off 17:15)
Saturday 2 December: Wales v South Africa (Kick Off 14:30)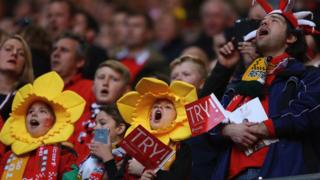 Going to Cardiff on Saturday?
Fans were warned about possible traffic congestion into Cardiff on Saturday, with authorities advising supporters to use public transport.
Rugby fans and other travellers could use extra trains to and from Cardiff on Saturday before and after the game, with Great Western Railway (GARR) adding 11 services.
Arriva Trains Wales has put on "extra capacity" to Valley line trains and said travellers on local Cardiff and Valleys routes "must" use Cardiff Queen Street station.
Train companies warned customers that services "will be busy all day".
"Fans are strongly advised to plan their journey in advance and check when their last train home is after the match," said Mark Youngman, GWR development manager for Wales.
Buses will be diverted out of city centre bus stops and will terminate at either Churchill Way, Greyfriars Road or Tudor Street.
Cardiff Bus night services will be available on routes to Ely, Thornhill, St Mellons and Pontprennau until 03:30 on Sunday.

Cardiff road closures
Cardiff council has a full city centre road closure programme in place on Saturday afternoon.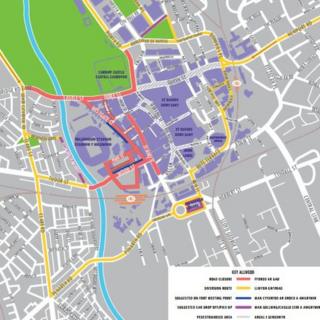 Match day road closures:
Kingsway (from North Road to Duke Street)
Cowbridge Road East (from Cathedral Road to Westgate Street)
Tudor Street (from Clare Road to Wood Street)
Plantagenet Street and Beauchamp Street (from Despenser Place to Tudor Street)
Saunders Road (from St Mary Street.
Customhouse Street
Penarth Road (from Saunders Road junction to Cardiff Central station)
Duke Street
Castle Street
High Street
St Mary Street
Caroline Street
Wood Street
Central Square
Westgate Street
Quay Street
Guildhall Place
Golate
Park Street
Havelock Street
Scott Road