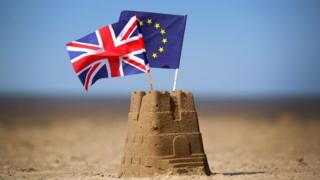 Northern Ireland tourism is aiming to better a strong 2017 in the year ahead, aided by a flurry of hotel activity.
Upwards of 1,000 additional rooms will become available in Belfast – an increase in the city's hotel capacity of around 25%.
Four major hotel projects will open their doors, including global brand Marriott at City Quays and the Grand Central on Bedford Street.
The pound's fall after the Brexit vote, which has made Northern Ireland better value for tourists, has helped propel the sector to new heights.
In the 12 months between June 2016 and June 2017, Northern Ireland had 2.2m visitors.
Officials forecast being able to grow that number by around 6% in 2018.
John McGrillen, chief executive of Tourism NI, said the exchange rate was one factor of 2017's success.
"If things remain the same, we see no reason why there cannot be continued growth," he said.
"But we have to ensure Northern Ireland remains in the mindset of potential visitors, particularly from the Republic of Ireland."
Elephant in the room?
However, a continued tourism boom is giving cause for concern in terms of staff.
Colin Neill, chief executive of Hospitality Ulster, which represents bars, restaurants and hotels, said: "The elephant in the room is who are we going to employ?
"Some of our members already cannot get staff to expand their businesses."
He said many foreign nationals – who make up 25% of the sector's workforce – had left for jobs in the Republic.
"The fall in sterling was effectively a pay cut for them as they are used to sending a lot of their wages back home to the eurozone," he added.
"Suddenly their wages are worth less, but in the Republic this is obviously not a problem."