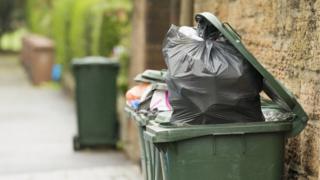 Three Scottish councils could use up their cash reserves within three years, the public spending watchdog has said.
The Accounts Commission found Moray, Clackmannanshire and North Ayrshire faced running out of spare money for emergencies.
Overall, the commission said administrations were facing "a challenging year".
It said the amount of funds pledged by the Scottish government was down by 7.6% in real terms from 2010-2011.
Larger savings
In 2016-17 a total of 19 councils used cash from their revenue reserves, this was up from the eight authorities that did this in 2015-16.
Over the course of the year, the overall amount held in council "rainy day funds" fell by £32m.
The commission said that councils who were using reserves faced having to identify larger savings in 2018-19.
It said Clackmannanshire, Moray and North Ayrshire councils would run out of General Fund reserves within two to three years if they continued to use them at the level planned for 2017-18.
Scottish government funding for councils amounted to £9.7bn in 2016-17, with ministers also providing £250m from the health budget to support the integration of health and social care services.
But the Accounts Commission said that "even taking this into account, total revenue funding for councils fell in 2016-17".
Finance Secretary Derek Mackay was asked in the Scottish Parliament what his response was to news that councils were using their reserves to fund services.
Mr Mackay told Labour's Jackie Baillie it was up to councils to decide when it was "prudent" to use reserves.
Ms Baillie told the Holyrood chamber: "Councils are now in danger of exhausting their reserves and there will be nothing left in a couple of years' time in councils like Moray, Clackmannanshire and North Ayrshire.
Mr Mackay replied: "Local government has been treated very fairly in very tough and challenging times at the hands of the UK right-wing Conservative government who have reduced our resources for public expenditure in Scotland.
He called for a mature debate and said he would be as supportive as he could to local government.
The Conservatives said the financial health of councils had rapidly deteriorated under the SNP and "millions upon millions" were being used just to service debt.
Council debt
The annual report spells out the financial situation facing Scotland's 32 councils:
Councils made £524m of savings in 2016-17 but were finding it increasingly difficult to identify and deliver savings
A rising proportion of council funding is being directed towards national priorities such as education – this means councils have to look at deeper cuts in other services
Overall council debt increased to £836m as councils were taking advantage of low interest rates to borrow more to invest in larger capital programmes
According to the Accounts Commission report, the funding provided by the Scottish government fell by 5.2% in 2016-17.
Its report said culture, planning and development and local roads have seen the sharpest falls in funding over the past three years.
The report focuses primarily on the financial year 2016-17 – the last year of the Scotland-wide council tax freeze.
The report notes that if all councils chose to raise council tax by 3%, it would only bring in £68m.
The Scottish government will announce how much it intends to give councils next year in its budget on 14 December.