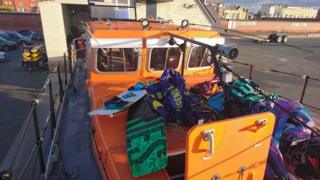 Three kitesurfers had to be rescued from the sea off north Wales after getting into difficulty during a charity event.
About 25 surfers had set off from Pensarn, Conwy county, on Saturday afternoon on a charity race to the wind farms and back.
The RNLI's Rhyl lifeboat picked up one surfer who was drifting after coming detached from his board.
Two more surfers, who were spotted lying in the water, were also rescued.
Another surfer, who had been seen going in the wrong direction towards Llandudno, was monitored by the coastguard but made it safely ashore.
"Eventualy all kitesurfers were accounted for and the lifeboat returned to station, no medical assistance being required," an RNLI spokesman said.