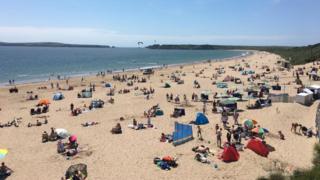 The hot weather in Wales continues on "super sunny Sunday" as temperatures are expected to reach 26°C.
Wales basked in sunshine on Saturday with top temperatures of 27°C (80F) in Hawarden, Flintshire, and 25°C (77F) in Cardiff with beaches packed.
It was a cooler 18°C (64F) at Mumbles Head, Swansea.
BBC Wales forecaster Derek Brockway tweeted: "Super sunny Sunday. Very warm or hot with sea breezes."
Sunday is predicted by some to be the hottest June 18 on record in the UK.
But, while the BBC weather forecast says Wales will be "hot and sunny day with light winds", it did warn of a "very slight chance that the heat will trigger an isolated thundery shower during the afternoon."
BBC Wales presenter Behnaz Akhgar warned the public: "Take care. High UV and high pollen count."