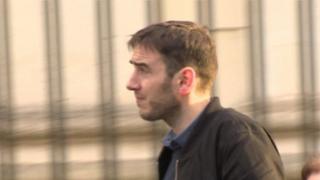 A County Londonderry man accused of terrorism offences in Syria told police he was "proud" of what he had done, a court has heard.
Eamon Bradley, 28, of Benview Estate in Coshquin, has denied three charges.
On Monday, his trial heard he had admitted to police that he had gone to the country, aiming to help overthrow President Bashar al-Assad's regime.
The charges he faces include attending a training camp in Syria and receiving weapons training.
Londonderry Crown Court, sitting in Omagh, was told that he admitted during police interviews to attending a training camp and taking up arms.
'Army of Islam'
He told police he didn't believe there was another way to overthrow the Assad regime.
He denied being asked to carry out any work on behalf of the group Jaysh al-Islam – the Army of Islam – on his return to Northern Ireland.
Mr Bradley said the group was happy to see a white Muslim leave his home for the sake of the people of Syria.
His trial has previously heard that he admitted travelling to Syria in February 2014 and had later taken part in battles.
The jury has also heard that he could dismantle and rebuild an AK47 assault rifle but he told the court had not fired the weapon.
The trial continues.