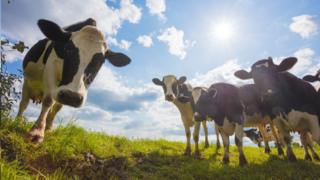 Farmers say a cow which was "stolen" and destroyed by government officials who suspected it had bovine TB was clear of the disease.
Hilary and Trevor Ogden, from Stroud, said they returned home to find a gate had been taken off its hinges.
A cow suspected of having bovine TB was taken, but on Tuesday it was confirmed it did not have the disease, the couple said.
Defra said this kind of intervention was "very rare".
Mrs Ogden said the cow, named Cleo, was tested twice in the summer and cleared by the farm's vet.
Another of their cows, Jasmine, was found to have TB and subsequently destroyed.
However, the family said the government was not satisfied with Cleo remaining on Battledown farm, in Oakridge Lynch, with her two calves.
Mrs Ogden claimed she was followed when out shopping "so they would know when we were at home and when we weren't".
"You're treated as if you're drug dealers or terrorists… that's what they do with people like that."
A Defra spokesperson said: "Despite the distress and devastation caused by needing to remove cattle as reactors, the vast majority of livestock keepers cooperate with the government's policy to eradicate bovine TB from the national herd.
"All such owners are contacted in person by APHA (Animal and Plant Health Agency) and the reasons for reactor removal and arrangements for their removal are explained in full and compensation is paid for the loss of each reactor."
In 2016, 29,000 cattle were culled because of bovine TB and up to 33,500 badgers have been culled this year in an attempt to stem its spread.
Defra requires cattle to undergo regular skin tests, to check for TB, and animals that show up positive for the disease have to be culled.