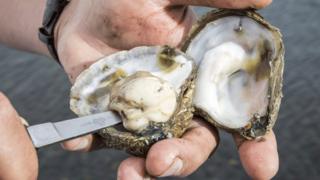 An economic impact report has found the first edition of the three-day Stranraer Oyster Festival generated more than £500,000.
About 10,000 people visited the town during the event from 15 to 17 September.
Organisers said the response to an online survey left them in no doubt it had been a "great hit".
Romano Petrucci said it was a great example of people working together to improve "somewhere they love".
The chairman of Stranraer Development Trust (SDT) added: "Over the weekend of 15 to 17 September, Stranraer unquestionably re-engaged with the loch in a manner that had not been seen since the last ferry sailed out of the port six years previously.
"We're looking to the future now with our sights most definitely set on establishing a future date for our next festival."
'Wonderful success'
Dumfries and Galloway Council's events champion Adam Wilson said the economic impact of the event had been "considerable".
"The Stranraer Oyster Festival caught the imagination of the public and had a superb programme of events to attract thousands of visitors," he said.
"It was a wonderful success for the town in the year Stranraer marked its 400th anniversary as a Royal Burgh."
The SDT said it would now examine the full findings of the impact report in order to ensure a "sustainable future" for the event.