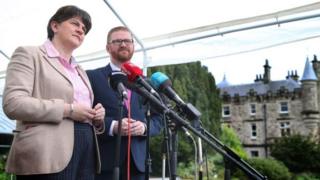 The leader of the DUP is expected to make a speech on Thursday setting out her party's attitude to the next round of negotiations on restoring devolution.
In June, talks between parties failed to restore a power-sharing executive.
Arlene Foster is expected to emphasise that the swift return of the executive is the DUP's preferred option.
She is also expected to argue that the current stand off cannot be allowed to continue much longer.
In advance of her speech, the DUP has revealed extracts of what Ms Foster is expected to say, including a desire to "see devolution restored immediately".
"I've heard it said that the unprecedented position that the DUP now finds itself in at Westminster means that we don't want or need a return of devolution," she will say.
"While the new parliamentary arithmetic delivers a measure of influence, it does not change our fundamental belief in Northern Ireland shaping its own destiny."
The extracts also suggest that Ms Foster will question Sinn Féin's commitment to restoring devolution.
"As we all know, Sinn Féin have built a barrier to the return of Stormont," she is expected to say.
"I question whether Sinn Féin is serious about wanting to see an early return to Stormont."
In a statement issued on Thursday morning, Sinn Féin leader Gerry Adams refuted Ms Fosters claims.
Mr Adams stated that his party "have repeatedly demonstrated our commitment to the political institutions".
"Sinn Féin's entire political strategy is vested in workable Good Friday Agreement institutions that are delivering for citizens," he added.
On Wednesday, Mr Adams said that without a stand-alone Irish Language Act there would be no new assembly.
The language issue has been one of the sticking points in talks to restore devolution.
Northern Ireland has been without a functioning devolved government since January, when the coalition led by the two biggest parties, the DUP and Sinn Féin, collapsed over a botched green energy scheme.
The late deputy first minister, Martin McGuinness, stood down in protest over the DUP's handling of an investigation into the scandal, in a move that triggered a snap election in March.
Over the past year and during two elections at Stormont and Westminster, the two parties have remained deadlocked over a number of issues.