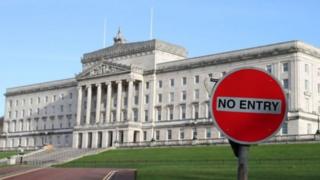 Talks to restore power-sharing in Northern Ireland are set to resume amid uncertainty about an anticipated DUP-Conservative parliamentary deal.
Stormont leaders are expected to meet Secretary of State James Brokenshire and the Irish minister for foreign affairs.
Talks aimed at restoring the executive were previously put on hold due to the UK general election.
The deadline for an agreement to be reached has been extended to 29 June.
Devolved government in Northern Ireland broke down in January and there has been political deadlock following a snap assembly election in March.
If no executive is formed, James Brokenshire has warned that Northern Ireland may face direct rule.
The secretary of state said he would continue to chair the talks, despite calls for an "independent broker".
"The point is that we have a process already, which involves, yes the UK government, but the Irish government too and also the head of the Northern Ireland Civil Service," he said.
"That is something that was working to bring the parties together, I think that remains absolutely the way to approach this."
He said if there was no agreement by 29 June, Northern Ireland could face direct rule.
However, Sinn Féin's Conor Murphy said it "would be kind to describe Mr Brokenshire as delusional".
"Of course he's conflicted, he always has been conflicted, the British government are conflicted because they are players in this process, they have a very direct interest, in particular in the legacy issues, and they have never been neutral," he said.
"His government won't exist unless the DUP allow it to exist and the fact that they will be dependent on them conflicts him even more."
---
Analysis – Enda McClafferty, BBC News NI Political Correspondent
All the parties will be back at Stormont on Monday, but it is likely that the focus will be on political partnerships in London and not Belfast.
The DUP is up for supporting a Conservative Government but only if its demands are met.
That support will involve backing Theresa May in any confidence vote and supporting her government's budgets.
As yet there are no details on what the DUP wants in return but it is thought its demands will include extra cash for Northern Ireland.
But some say the real cost of a deal could be the future of power-sharing in Northern Ireland.
Sinn Féin, the SDLP and Alliance say any partnership between the DUP and Conservatives could scupper plans to restore the institutions.
It is fast becoming a game of political poker with high stakes.
---
The Irish Minister for Foreign Affairs, Charlie Flanagan, said he was "looking forward to the talks process getting under way again".
He added: "It is now more important than ever that we have effective devolved government in Northern Ireland, especially with Brexit negotiations due to begin shortly.
"It is absolutely crucial that the voice of Northern Ireland should be heard in these negotiations through a newly-formed power sharing executive. "
Meanwhile, DUP leader Arlene Foster is due to meet the prime minister on Tuesday to discuss the formation of a DUP-supported Conservative government at Westminster.
The SDLP, Sinn Féin and Alliance Party have said that such a partnership could make power-sharing at Stormont more difficult.
The former Labour secretary of state for Northern Ireland, Peter Hain, told BBC Radio Ulster's Good Morning Ulster that he fears a DUP-Conservative arrangement could have a negative impact on the talks.
"My concern is that it jeopardises the neutrality, the non-partisan stance, that a prime minister and a secretary of state must have in relation to Northern Ireland's politics," he said.
"If I, as secretary of state, or for that matter Tony Blair, were seen to be aligned with any one party in Northern Ireland, it would have compromised the trust we needed to build with any other party," he added.
Under Northern Ireland's power-sharing agreement, the executive must be jointly run by unionists and nationalists, with the largest party putting forward a candidate for first minister.
Sinn Féin's Martin McGuinness quit as deputy first minister in January in protest against the DUP's handling of a botched green energy scheme.
The party said it would not share power with DUP leader Arlene Foster as first minister until the conclusion of a public inquiry into the Renewable Heat Incentive (RHI) scheme.
Mr McGuinness, who had been suffering from a rare heart condition, died earlier this year.