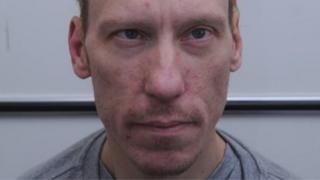 A High Court judge has ordered fresh inquests into the deaths of two men who were murdered by the serial killer Stephen Port.
Port was convicted a year ago of murdering Daniel Whitworth, 21, and Gabriel Kovari, 22, in 2014.
Their original inquests had recorded open verdicts but the court heard "new evidence" had since been uncovered.
Quashing the original verdicts, Lord Justice Holroyde said new inquests were "both necessary and desirable".
Mr Kovari, originally from Slovakia, was found dead in a churchyard in Barking, east London, on 28 August 2014, three weeks before Mr Whitworth, from Kent, was discovered in the same spot.
A fake suicide note found in Mr Whitworth's hand – which had in fact been written by Stephen Port – said he had accidentally killed his lover Mr Kovari and was taking his own life as a result.
In fact, the two victims did not know one another.
Police accepted the note at face value and treated the deaths as non-suspicious, despite concerns being raised by people close to both men.
The court heard that subsequently police had not treated the two deaths as murders, meaning the coroner had lacked key information at the inquests in June 2015.
Edward Pleeth, representing the senior coroner for the eastern area of Greater London, said a "significant amount of new evidence" had since been uncovered.
Ruling that new inquests should take place, Lord Justice Holroyde said the coroner had been given "insufficient" evidence to give her the "full picture" regarding the deaths.
He also said it seemed "surprising" the original police investigation had "revealed so little" about the true circumstances.
Port, now 42, also murdered Anthony Walgate, 23, from Hull, and Jack Taylor, 25, from Dagenham.
Inquests for those men were suspended pending the criminal trial. The judge said it was "eminently sensible" for all four inquests to be held together.
Mandy Pearson, step-mother of Daniel Whitworth, said the ruling was "an important start to getting some of the many wrongs concerning Daniel's death corrected."
Lawyer Andrew Petherbridge, of Hudgell Solicitors and who is representing the four families, said holding the inquests together "will help identify if institutional failings and discrimination within the Metropolitan Police service played any roles in their deaths".
An investigation by the BBC revealed flaws in the evidence given by police at the original inquests for Mr Whitworth and Mr Kovari.
Seventeen police officers who worked on the original enquiries are under investigation by the Independent Police Complaints Commission over the murders.