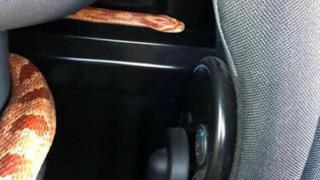 A woman moving house was left "completely terrified" when she found a snake in a rental van.
The Scottish SPCA was called to the scene in Aberdeen after Susan Grayson spotted the snake slithering around on a seat.
The reptile, thought to be a non venomous corn snake, disappeared but was still thought to be inside the van.
A mechanic was called out to try to find the snake in the bodywork of the van.
Mrs Grayson said: "We picked up the van and started doing our runs as we are moving house.
"We were about to get back in the van and my partner found the snake slithering around the side of the seat, at which point we decided not to get back in the van.
"I was completely terrified. We phoned Hertz and they said they hadn't had that before. So we then phoned the Scottish SPCA.
"I am scared of spiders, let alone snakes."
It is thought the snake could have been in the van for some time.
Scottish SPCA animal rescue officer Kyle McWhirr: "The snake has gone somewhere into the structure of the van. The snake will want to be where it's warmest. There's no risk.
"This is my first snake in a vehicle like this."
Gavin Burnett said he believed it was his snake 'Mushu' which he lost while driving with it in a Hertz van from Aberdeen to Elgin several months ago.