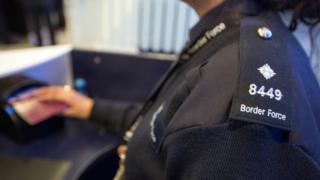 Border security weaknesses have been identified at small sea ports on the east coast of England and Scotland.
The Chief Inspector of Borders and Immigration said half of ports, marinas and wharfs had not had a visit from any Border Force staff for more than a year and some used "19th Century" procedures to document illegal immigrants.
Staff at Gatwick airport were also said to be under "considerable strain".
A Home Office spokesman said it accepted improvements could be made.
Chief Inspector David Bolt's report also revealed that the number of clandestine migrants detected at the ports had almost doubled in the 12 months between 2014/15 and 2015/16, rising from 233 to 423.
Overall, Border Force officers were "stretched" but "coping", Mr Bolt concluded.
'Too thinly'
His inspection team found that at one port, car boots were "not systematically checked" and on two days that inspectors visited, no tourists arriving in cars were searched.
Elsewhere, there was a shortage of staff able to use specialist scanning equipment.
"Officers at one port said that they had lost the majority of their experienced scanner drivers to earlier voluntary exit schemes designed to achieve budget reductions," he said.
"They had also lost officers with expertise in interpreting the images produced by a scanner."
In Hull, delays were created by staff taking the fingerprints of illegal immigrants using wet ink – a procedure the inspectors said
Mr Bolt concluded: "The inspection found that Border Force, given the practicalities, was generally efficient and effective in managing the fixed immigration control points at the major seaports, and in dealing on an intelligence-led basis with vehicle and freight arrivals.
"By contrast, coverage of smaller ports, harbours and marinas was poor.
"The numbers of clandestine arrivals identified by Border Force at east coast ports had indeed increased, and Border Force was dealing appropriately with individuals, whether they claimed asylum or agreed to be removed immediately.
"The overall sense was that Border Force was stretched, in some instances too thinly, but coping."
An inspection team visited Gatwick in June 2016 and found staff at the south terminal stretched.
Mr Bolt said the number of staff at the entire airport had dropped from 625 to 550 in the preceding seven months.
Seasonal workers filled in, but they didn't have the "required skills", were "less efficient" and made "errors".
As a result, Mr Bolt said that the demands on staff "call into question the resilience and sustainability of the current resourcing model".
A statement from the Home Office welcomed the praise for their operations at major seaports.
But a spokesman said they accepted "improvements can be made" and that they will be "taking forward the recommendations."