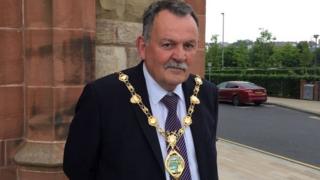 A row has broken out at a Northern Ireland council meeting over an invitation for a councillor to attend a Buckingham Palace garden party.
Fifteen councillors voted in favour and fifteen voted against the invitation at Derry City and Strabane District Council.
The DUP said it was "shameful" that Sinn Féin mayor Maolíosa McHugh used his casting vote to block the move.
But Sinn Féin said the mayor's impartiality was not in question.
DUP councillor David Ramsey said the party "snubs the event, it snubs people who receive awards from her majesty and it snubs Buckingham palace".
"It's going against the grain of good relations, something that has been worked hard on for a long number of years in Londonderry. This new mayor has decided that he has other ideas.
"We made it clear that it was shameful what the mayor did."
He said the council is considering a "call-in request" because they believe the move is "detrimental to the unionist community".
This is a procedure that can be requested if 15% of councillors believe a decision could adversely affect a section of the community.
'Witch hunt'
A lawyer is then asked to examine the motion and determine whether it should be reconsidered.
However, Sinn Féin councillor Eric McGinley defended Mr McHugh.
"This isn't an issue about the mayor, the mayor was using his democratic right to use that casting vote," he told the BBC.
"Just to explain, there was an invitation extended to council from the Department of Communities to attend a garden party in Buckingham Palace.
"We were more than willing to accommodate anyone going to Buckingham Palace but the key thing was that it shouldn't be at a cost to the ratepayers.
"To turn this into a witch hunt against the mayor is inappropriate but it seems to be a course of action the DUP are intent on."
Royal Garden Parties are held at Buckingham Palace and at the Palace of Holyroodhouse in Edinburgh.
They are an opportunity for the Royal Family to meet a cross-section of British society and thank them for various good deeds they have done.
Last year, Mayor McHugh made a controversial decision not to meet Prince Charles during his visit to flooding victims in the North West.