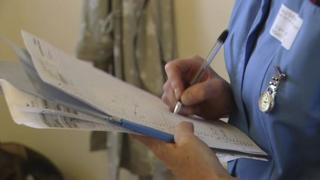 Northern Ireland's health regulator has formally notified the health department there is a serious nursing shortage across hospital and community services.
It is the first time the Regulation and Quality Improvement Authority has issued such a notice.
It was its duty to inform the department, it said, after identifying a number of failings in almost every area it had inspected.
The department said it acknowledged that there is a shortage.
It is a issue in common with the rest of the UK and the Irish Republic.
'Worrying in almost every area'
The Royal College of Nursing described the move by the regulator as "reassuring" and said it was a "step in the right direction".
The regulator said that after a series of inspections in hospitals and nursing homes, the RQIA identified staffing levels as being a problem in almost every area – calling it a "worrying picture".
It noted a reliance on agency and bank nursing staff which it said was due to a shortage of permanent staff.
This was impacting on the continuity of nursing care delivery in Northern Ireland.
According to Olive Macleod, the RQIA's chief executive, the effect was leading to "less effective care for patients."
"This is a significant message for the Department of Health," she told BBC News NI.
"We as the regulator inspect health and social care organisations across Northern Ireland and where we find failings or there are concerns we must flag it to the department, and on this occasion we did flag it.
"We are beginning to see big gaps in rotas and nursing home settings and this potentially will have an impact on care."
'Workforce review'
The RQIA said there were worrying themes arising from five inspections of hospitals and nursing homes.
An inspection report said this had a knock-on effect, including low morale among staff, which was impacting on sickness levels, levels of staff training, appraisal and supervision.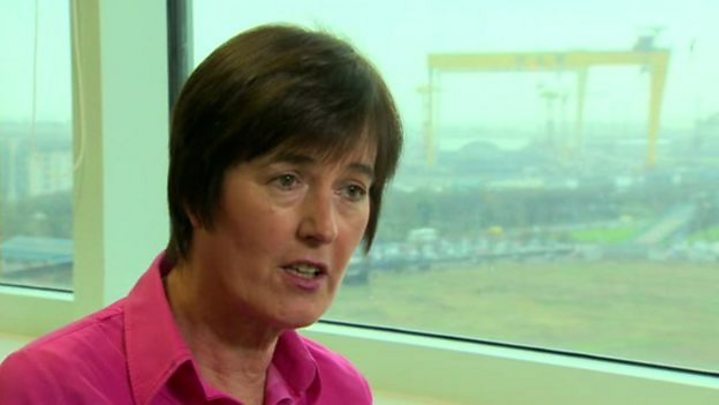 Inspectors said the cumulative effect was leading, in some cases, to less effective care being provided for patients.
The Department of Health said it was taking a range of measures to address the situation, including a workforce review.
"Workforce pressures are one of the deep-seated challenges facing health and social care – challenges that can only be fully addressed through transformation of the system," said a department spokesperson.
The nursing shortage was a factor in the recent closure of a nursing home in Portadown in late January, and one in Tandragee in November, said the regulator.
It was also impacting on the availability of beds in homes in those areas, and is potentially having a knock-on effect on hospital discharges, it added.
Janice Smyth, director of the Royal College of Nursing, said the move by the RQIA was "a step in the right direction".
"The fact that the regulator has formally recognised that we do have a serious problem here is reassuring to the profession," she said.
"The college has been raising concerns around safety and effective nurse staffing for some time and to nurses it would appear that people aren't as concerned about that as they should be.
Meanwhile, a nursing home owner in county Down has revealed members of his staff are travelling to India in a bid to recruit nurses, as he can't employ enough staff locally.
"At the end of January one of our senior nurses and a social worker are heading off as part of a trade delegation that was organised by Armagh Banbridge and Craigavon Borough Council," said Mark King of Rathfriland Manor Nursing Home.
"We're very hopeful we will at least get in front of some qualified nurses who may well see Northern Ireland as an attractive option."
Describing the recruitment drive as a "a big step", he said he was "gambling on the fact we will go out and achieve some success while we are there".