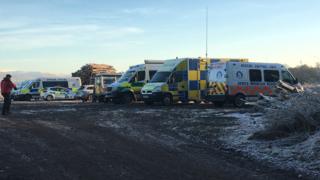 A search is resuming after reports that a microlight aircraft may have crashed in woodland.
Two members of the public reported seeing an aircraft descend near the M80 motorway at Cambusbarron, Stirling, at about 16:00 on Sunday.
Police, mountain rescue teams, firefighters, ambulance personnel and other volunteers joined the search, which was suspended overnight.
Anyone with information is urged to contact police.
Wendy Letford, who lives in Cambusbarron, believes she saw an aircraft disappear from view.
She said: "Just before four o'clock I witnessed two small dark planes in the sky going very low, and going very slowly.
"I pointed them out to my husband and by the time he turned around to have a look, there only appeared to be one plane in the sky, and I had no sight or sound of the second plane.
"There was no smoke, there was no fire – and I did not hear a bang. I just saw one plane leaving in the distance."
Mrs Letford and other locals mounted their own search of the woods and said there was a smell of sulphur in the air – but there was no sign of a crash.