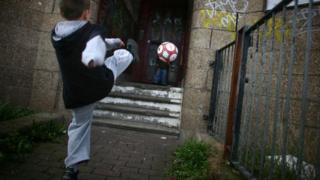 Scotland's progress in reducing poverty is in "peril", the Scottish government has been warned.
A new report by the Joseph Rowntree Foundation (JRF) found that poverty is lower in Scotland than in the rest of the UK.
And it discovered that falls in poverty among pensioners and families with children have been greater and more sustained north of the border.
But it said housing costs, low pay and benefits changes put progress at risk.
Earlier this month MSPs passed a bill which set out a number of targets aimed at reducing child poverty in Scotland.
It means that the Scottish government will have a statutory obligation to ensure that less than 10% of children live in relative poverty by 2030.
Poverty rates in Scotland have seen a gradual decline over the last 20 years, according to the Poverty in Scotland 2017 briefing.
However the Institute of Fiscal Studies recently predicted that child poverty would rise from 23% to 29% by 2021.
The JRF has called on the Scottish government to use next month's budget to ensure rates continue to decline.
Chief executive Campbell Robb said Scotland's "proud record" in reducing poverty meant thousands of families have enjoyed better living standards, financial security and better prospects.
"But Scotland stands at a turning point as the challenge facing families on low incomes changes," he added.
"The rising cost of housing and the challenge of low-pay and in-work poverty – as well as the impact of UK social security decisions – mean the country's progress is in peril.
"Scotland's record shows progress can be made with sustained effort, but these findings highlight that these gains are fragile and need to be protected.
"The upcoming budget provides a chance to tackle the long-term drivers of poverty and fix the foundations for the next generation of families."
The JRF's recommendations to the Scottish government include:
Use city-region and growth deals to help low-paid workers into better-paid jobs
Boost loans for private landlords to improve energy efficiency and reduce heating bills
Top up UK payments such as child tax credits, or give more generous school clothing allowance or council tax rebates.
They have received the backing of the Church of Scotland, with the Rev Dr Richard Frazer, of its church and society council, claiming progress on tackling poverty is "precarious".
He added: "Now it is more important than ever that we work to ensure that all have access to the employment, money, education, housing and relationships necessary to thrive.
"We would urge the Scottish government to use the forthcoming budget to ensure that this happens, particularly for young people growing up in Scotland.
"This is not just about tackling poverty, it is about creating a society in which everyone might flourish. For Christians, It is part of living out our gospel imperative to love our neighbour as our self."
'Worrying trend'
The latest JRF report considers households are in poverty if they receive less than 60% of the median income, adjusted for household size and type.
It found that child poverty in Scotland fell from 32% in 1994/97 to 23% in 2013/16.
In the UK as a whole, child poverty fell less sharply – from 33% to 29% over the same period.
However, the JRF said its latest single year figures show an increase in child poverty in Scotland – a "worrying trend" if it emerges in the next set of figures, which looks at three year averages, it added.
The report also found that:
There has been a steep fall in pensioner poverty, particularly in Scotland
The poverty rate for lone parents has fallen markedly due to a rise in the number who are in work
Single people without children have seen poverty rates increase, from 19% in 1994/97 to 27% in 2013/16
More than a third of people in poorest fifth of the population spend more than a third of their income on housing
The attainment gap between children in the least and most deprived area is "stark" at five or six, and increases through school
A Scottish government spokesman welcomed the finding that poverty is lower in Scotland than in the rest of the UK but said the numbers were still far too high.
"We are absolutely committed to eradicating poverty, clearly demonstrated by the successful passage of our ambitious Child Poverty (Scotland) Bill this month, which establishes Scotland as the only part of the UK with targets to tackle child poverty," the spokeswoman added.
"Meeting our new targets will be challenging and it will seem like we are often fighting with one hand tied behind our back, whilst UK government austerity and welfare cuts continue."