Of course, I know Donald Trump is not the actual president of Scotland. So you may then ask why we have given our documentary the slightly provocative title: Donald Trump: Scotland's President?
Well, like it or not, he is arguably the most Scottish president in the history of the United States.
His mum was born on the isle of Lewis before heading to America at the age of 18.
President Trump is Scottish enough to have qualified to play for our national football team.
He has significant business interests here and says he loves our country.
If anyone else with such direct links to Scotland had made it to the White House we would be claiming them as one of our own in the same way the Irish embraced JFK.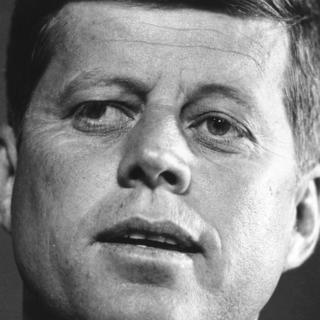 That's certainly the view of the former boss of Scottish Enterprise, Jack Perry, who said: "Had it been anyone else, by golly, we'd have been rolling out the red carpet."
"Just touting the fact that he had such a close relationship and had been a major investor here. But the brand is toxic, there's no two ways about it."
And that's the problem. Donald Trump may be half-Scottish but he is wholly controversial.
When he proposed a ban on Muslims entering the United States during the election campaign, First Minister Nicola Sturgeon dropped him as a business ambassador for Scotland.
In a TV debate, the first minister said: "I actually do think the good people of America will send Donald Trump packing and we should all rejoice when that happens."
Robert Gordon University in Aberdeen also took away his honorary degree.
'Very unseemly'
All five Holyrood leaders at that time publicly opposed Donald Trump's election and the then Scottish Labour leader, Kezia Dugdale, travelled to America to campaign for Hillary Clinton.
But Donald Trump won.
So, was it a mistake for our politicians to take sides in a foreign election against a candidate who now occupies the highest political office on the planet?
"It was very unseemly. It's not what you do," said Sebastian Gorka, who was an adviser to President Trump until August.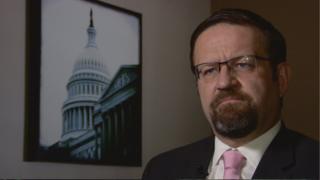 He compared it to President Obama's intervention during the Brexit referendum, when he warned that the UK – outside the EU – would be at the end of the queue for trade talks with the US.
"Americans shouldn't do that. Other politicians shouldn't do that with us," Dr Gorka said.
So, might there be consequences?
"You'd have to ask the president but he has a very, very long memory. He doesn't forget stuff," added Gorka.
'Sullies everything'
Soon after President Trump's election, the first minister spoke with him by phone and offered congratulations.
Nicola Sturgeon has continued to speak out when she disagrees with the president. But she has also said she would be prepared to meet him if he returns to Scotland.
Ms Sturgeon's Labour predecessor as first minister, Lord McConnell, thinks that's the right approach.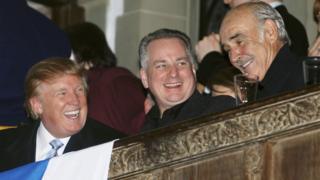 "I think it is possible, if you are in a leadership role, to have a strong opinion about somebody or about what they are doing, to be able to express that publicly if you have to but also to take opportunities to raise those issues privately and to do other business as well," he said.
Lord McConnell recalled having met President Putin of Russia twice and visits to Scotland by Chinese leaders with whom we also have significant disagreements.
So, if we can deal with them, can we also deal with Donald Trump?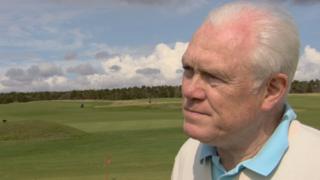 "You can dislike the man, you can dislike his politics, you can dislike his public pronouncements but there still, I think, has to be some respect for the office," said Jack Perry.
"I don't think you have any choice but to deal with him," he said.
As UK prime minister, Theresa May, was the first international leader to travel to meet President Trump in the White House after his inauguration.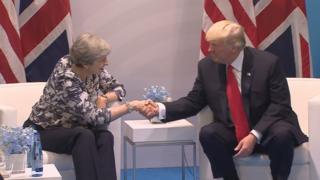 She is hopeful of an early post-Brexit trade deal with the United States. But that hasn't stopped her disagreeing with Trump's approach on issues like Iran or climate change.
Trump's biographer, Michael D'Antonio, warns against getting too close.
"Does anyone have any choice but to hold Donald Trump at arms length?" he said.
"He sullies everything that he comes in contact with. You cannot do business with this person and come out whole."
Unpredictable president
Mrs May offered President Trump a state visit to the UK which he accepted, but has yet to make.
Sebastian Gorka told me he expects it will go ahead at some point and that he'd be surprised if it didn't take in Scotland.
So, it may be there will be further chapters to write on Scotland's difficult relationship with an unpredictable President who happens to have a Scottish mum.
Donald Trump: Scotland's President will be broadcast on BBC One Scotland, at 21:00 on Thursday 9 November.