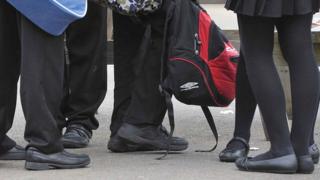 A school which suggested its students' academic success was linked to their footwear has apologised.
Crispin School, in Street, Somerset, claimed on its Facebook page that "achieving" pupils were "sharply dressed" and in "the correct footwear".
The post attracted hundreds of angry comments from people claiming it discriminated against students who could not afford "the nicest shoes".
The school has apologised saying it had "nothing to do with disadvantage".
The post entitled "success and shoes" was put on the school's Facebook page last week, along with pictures of pupils in "acceptable" footwear.
The school said it had "become apparent that those students with the strongest academic progress – are 'sharply' dressed".
Referencing the town's links to the shoe manufacturer Clarks, the school said it had "particularly chosen to emphasise the link between success and footwear" and found "those students achieving are wearing the correct footwear".
The post attracted angry responses from Facebook users, who dismissed the idea that to achieve "good grades you have to have smart shoes".
Em Cooper, commented that: "Every pupil has the ability to be successful.. with the right teachers and support! Nothing to do with footwear."
While Tash Norris, posted that it was a "shame" the school would "choose to victimise its students over the quality of their school shoes, thus highlighting families who are less fortunate than others".
Fran, whose daughter goes to the school, said she was "really disappointed" the school was "concentrating so much on appearance" rather than education.
'Ready to learn'
"The Facebook post suggests that if your shoes don't fit the requirement that you're failing and will continue to do so in life – which is absolute tripe," she said.
In a statement, a school spokesman apologised and said it was committed to "giving all students the best chance to learn regardless of their background".
"The comments posted had nothing to do with disadvantage or money, and everything to do with the importance of students arriving at school well prepared and ready to learn," he said.
"I apologise to anyone who was upset in any way."