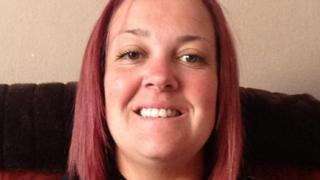 Parents on the village school run barricaded suspected thieves in with their cars until police arrived.
The Devon mum who "led" the blockade saw two men stealing scrap lead from a garden and loading it into a Ford Transit van when she blocked and confronted them, she said.
Two men aged 31 and 28, from Birmingham, were arrested on suspicion of theft, police confirmed.
They said it happened at 08:45 GMT on Monday in Horrabridge.
More on this story, and other Devon and Cornwall news
Tracey Lumley, a married mother-of-four, said she had told one man to stop.
"He didn't gob off or anything – I think he was shocked at being challenged by a female to be honest," she added.
Mrs Lumley first told the Horrabridge Times she had just dropped her children off when she saw a van was "causing chaos" on a residential road.
She said her neighbour, who owns a roofing business, was standing "teary and in shock" and told her she was "being robbed".
Mrs Lumley said she "reverse parked right in front of the van," then another mother realised what was going on and parked "to the side of the van so it could not get out".
She told the BBC she and other mothers on the street then confronted the men.
"I said: 'What do you think you're doing? You can't go on taking things from people's gardens'," she said.
"It could have been dangerous but in the moment you don't think about it."
A Devon and Cornwall Police spokesperson said: "Several mothers on their way back from school stood and would not let the offenders leave the scene.
"We would thank the public for their assistance with this matter. They were all very professional and calm in the way that they dealt with the incident."