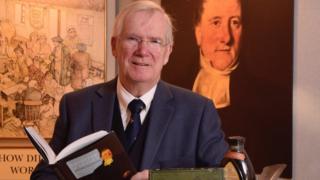 A biography of the founder of the world's first community savings bank has been launched more than 170 years after his death.
The Rev Henry Duncan started his "penny bank" for parishioners at Ruthwell, in Dumfries and Galloway, in 1810.
Author Charles Munn has produced the book Minister of Money to chronicle his achievements.
The TSB Bank has announced plans to donate two copies to 490 libraries throughout Scotland.
Mr Munn said he felt it was a story that deserved a wider audience.
"Rev Henry Duncan's legacy stretches across the world," he said.
"He may justly claim to have created the first 'thrifty Scots' but within a few years of him setting up his bank in Ruthwell in 1810 savings banks were being established in the rest of the UK, Europe, USA and many other parts of the world.
"And he spent the rest of his life providing advice and guidance to anyone who asked for assistance in setting up a savings bank."
Richard Merry, TSB's Ayr bank manager, said he was "thrilled" to donate the first book to the Ewart Library in Dumfries.
He said Duncan's "lifelong vision" lived on in the present-day company, revived in 2013.
Deputy First Minister John Swinney also welcomed the new publication.
He said: "Henry Duncan was a remarkable man who has left a lasting legacy in Scotland and indeed, the wider world.
"The great compassion he held for those facing hardship led him to found the first ever community savings bank and the world we live in today would be completely unrecognisable without his contribution.
"I welcome the gifting of these books to libraries around the country, which will allow more people to learn about his life."
Mr Munn and TSB Ayr bank manager Richard Merry handed over the first book to Alison Burgess of the Ewart Library at the Savings Bank Museum in Ruthwell.