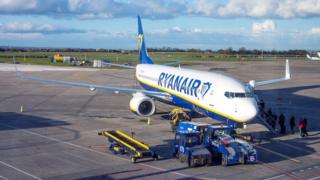 Several Ryanair flights to and from Dublin Airport are among those the firm has cancelled, as part of a wider move to address punctuality and staff leave.
The Irish airline announced on Friday that it plans to cancel 40 to 50 flights every day for the next six weeks across its operations.
It said it needed to improve the punctuality of its flights and clear a backlog of staff holiday entitlement.
Six arrivals and three departures to Dublin were cancelled on Saturday.
The affected arrivals are:
10:00 flight from Paris-BVA FR023
12:10 flight from Barcelona FR6874
12:20 fight from Madrid FR7257
14:50 flight from Amsterdam FR3103
15:15 flight from Edinburgh FR817
20:30 flight from London-LGW FR143
The cancelled departures are:
11:05 flight to Amsterdam FR3102
12:35 flight to Edinburgh FR816
16:45 flight to London-LGW FR142
The airline has advised its passengers: "Your flight is operating as scheduled unless you have received a cancellation mail.
"Please check the email address used to make your booking."
Ryanair also flies from Belfast International Airport but none of its flights have been affected to date.