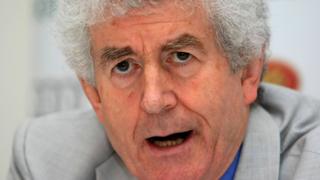 The funeral for former first minister Rhodri Morgan is to be held in the Senedd in Cardiff Bay on Wednesday.
The ceremony, which will begin at 11:00 BST and is open to the public, will be conducted by humanist celebrant Lorraine Barrett.
Mr Morgan, who died earlier in May aged 77, served as the Welsh Assembly's first minister from 2000 to 2009.
He was credited with bringing stability to the fledgling assembly during his years in charge.
It is understood Mr Morgan had been out cycling near his home when he died.
First minister Carwyn Jones will be among the speakers at the funeral.
Ms Barrett is herself a former AM, having served between 1999 and 2011.
A service of committal will be held at the Wenallt chapel, Thornhill Crematorium, on Thursday at 14:00.
Speaking in the Senedd chamber last week, Julie Morgan paid tribute to her husband, telling fellow AMs: "He loved this place."
Mrs Morgan, who represents Cardiff North, added: "Losing Rhodri is a terrible personal blow to me and to the family… It is an aching loss.
"We've had, I would say, a roller coaster sort of life. It's been rosettes, rosettes all the way."