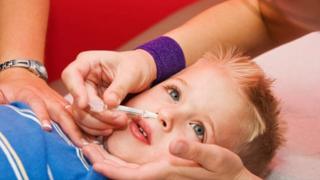 A record 70% of children aged from four to eight in Wales have been given the flu vaccine so far this winter.
Health teams have been visiting schools to offer vaccination to all children in reception and Years 1 to 4.
They are offered nasal spray vaccines, which Public Health Wales says is "quick, safe, and completely pain-free".
This is the first time Year 4 children have been included in the annual, free flu vaccination programme.
A total of 67,936 children aged four to eight have received the vaccine so far this winter. A further 23,433 two and three-year-olds have been given the vaccine at GP surgeries.
Next year, the in-school vaccine campaign will also include Years 5 and 6, Public Health Wales said.
Parents or guardians must give consent before any child receives the nasal spray vaccine.
The vaccine teams have so far visited 723 of Wales' 1,287 primary schools this winter.
More schools will be visited by the end of the current term.
'Protection'
Dr Richard Roberts, head of the Vaccine Preventable Diseases Programme at Public Health Wales, said: "The nasal spray flu vaccine provides good protection for children against influenza and is most effective if given before flu starts to circulate.
"By extending the age range so that eight year olds are now also included in the routine flu vaccination campaign in Wales we can protect more children and help reduce the risk of flu spreading."
Other population groups strongly advised by Public Health Wales to get vaccinated are pregnant women, anyone over the age of six months with long term health conditions, people aged 65 and over and carers.
Health and social care workers are also advised to have the flu vaccination to protect themselves and the people they care for.
Immunity wanes over time and each year the flu viruses that circulate and cause health problems mutate, so vaccines have to be developed to match them.
Last winter, 67% of children in reception and Years 1 to 3 were vaccinated.
'Reduce the risk'
TV presenter Nia Parry said: "I absolutely welcome the campaign to get children between the ages of two and eight vaccinated this year.
"Flu can be serious.
"My two boys both fall into this age group and I fully support the campaign to ensure they are protected.
"Most parents know that children are very good at spreading germs.
"My sons, Hedd and Tirion have had it for a few years now and they see it as a normal event each autumn.
"The vaccine is offered in school for children from reception class up to school year four, so it's easy for parents too as they just need to complete the consent form and return it to school."