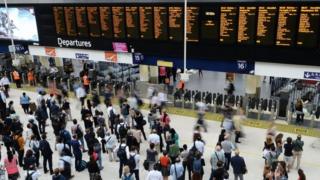 Average rail ticket prices have risen by 3.4% across the UK, in the biggest increase to fares since 2013.
Protests are planned at some 40 stations, as many commuters see their season tickets go up by more than £100.
Campaigners warned that many people were "being priced out of getting to work".
The Department for Transport said price rises were capped in line with inflation.
Commuter routes that are now more expensive include Liverpool to Manchester (up £108 to £3,152), Maidenhead to London (up £104 to £3,092) and Elgin to Inverness (up £100 to £2,904).
Fare increases to regulated fares are calculated using the previous July's Retail Prices Index (RPI) measure of inflation.
Around half of all tickets fall under this category.
Paul Plummer, chief executive of industry trade body the Rail Delivery Group, said the fare changes would provide cash for better services and investment.
"For every pound paid in fares, 97p goes directly back to operating and improving services," he said.
But Bruce Williamson, of campaign group Railfuture, has called for the lower Consumer Price Index (CPI) inflation measure to be used for regulated fare increases.
Mr Williamson argued that if CPI had been used rather than RPI since 2004, rail fares would be 17% lower.
He said people were being priced out of getting to work, with British rail fares among "the most expensive in Europe".
Stephen Joseph, chief executive of the Campaign for Better Transport (CBT), accused the government of choosing to "snub rail passengers" while fuel duty continued to be frozen.
"The extra money that season ticket holders will have to fork out this year is almost as much as drivers will save," Mr Joseph said.
"That doesn't seem fair to us."
Meanwhile the National Union of Rail, Maritime and Transport Workers (RMT) said the need for public ownership of the railways had "never been more popular or necessary".
The Department for Transport said that 97p out of every £1.00 paid by rail passengers went back into the railway.
"We are investing in the biggest modernisation of our railways since the Victorian times," a spokesman added.
"This includes the first trains running though London on the Crossrail project, an entirely new Thameslink rail service, and continuing work on the transformative Great North Rail Project.