Manchester attack victim Martyn Hett would have been "at the front with some obscure sign" say friends who travelled to Radio 1's Big Weekend to celebrate his life.
He was among the 22 people killed by a suicide bomber who targeted Ariana Grande's gig at Manchester Arena six days ago.
Jamie Lister, 22, nearly didn't come to the festival in Hull.
But he and his mates decided to make the trip in tribute to their friend.
"I bought these tickets a few months ago so I've come to have fun, have a day off work, get away from everything," he tells Newsbeat.
"But I've also come to remember those that we lost in Manchester, especially one of our friends Martyn Hett. He went to the concert in Manchester and sadly didn't make it out."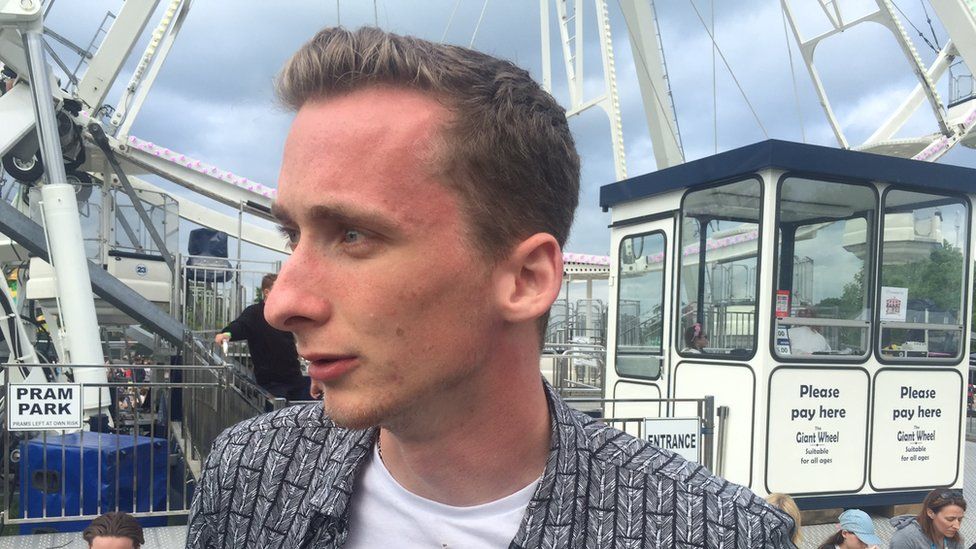 "I wanted to use it as a reason to come and celebrate – and to feel liberated for people who weren't that lucky.
"So it's about coming together and enjoying the music."
There was a minute's silence at 3pm across the grounds of Burton Constable Hall, where Big Weekend is taking place in the East Riding of Yorkshire.
Around 25,000 people at three stages fell silent.
And many acts have dedicated songs to those who died.
"Something that has especially helped is that nearly every act has mentioned Manchester.
"It's been about being in the moment with the music."
He tells us what Martyn would have been excited about seeing this weekend.
"Martyn was massive on pop culture – it was in his blood. Anything camp, anything pop.
"He had a massive love for off the radar artists like Michelle McManus. He followed her up and down the country.
"Martyn would have been here for the more gay icons, like Lana [Del Rey], Lorde, Katy Perry. He'd have been at the front with some obscure sign, probably.
"Music like that was his escape… but actually it was part of his everyday life. That made it more special.
"Seeing Lana with people around me, it just felt really special."
Thousands expected at Heaton Moor Park vigil
On Sunday Jamie is heading to a vigil for Martyn being held in Heaton Park, Manchester, at 7pm. It's normally home to massive gigs by the likes of Oasis and the Stone Roses.
"We're asking anyone who knew him, anyone who followed him online, anyone who enjoyed Martyn's existence, to come down.
"We wouldn't want to have to deal with his passing in a way that was sad.
"We want something uplifting and fun and something comical because that's what he was about.
"We're going to light up Heaton Moor Park and see what happens."
Watch full sets, highlights and see exclusive photos here.

Find us on Instagram at BBCNewsbeat and follow us on Snapchat, search for bbc_newsbeat