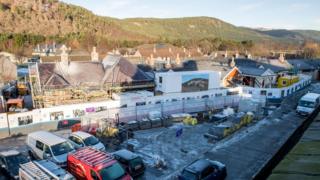 Prince Charles is to open another food establishment in Ballater.
The Duke of Rothesay will open the Ballater Station Bistro and Tearoom as part of the redevelopment of the Old Royal Station which was destroyed by fire in 2015.
It follows HRH opening the Rothesay Rooms in the town in 2016.
The new project is in partnership with Aberdeenshire Council as part of a programme by The Great Steward of Scotland's Dumfries House Trust.
Kenneth Dunsmuir, executive director of Dumfries House Trust, said: "By playing our part in the restoration of the Old Royal Station at Ballater, we are aiming to bring the village back to its former glory, allow people to gain an insight into the significance of the building, and give tourists another reason to visit beautiful Royal Deeside."