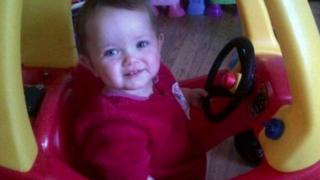 A 13-month-old girl who died after allegedly being sexually abused by her father was a "bubbly and funny" child, her mother has said.
Poppi Worthington died in hospital after being found with serious injuries at her home in Barrow in December 2012.
Last year a family court found her father Paul probably sexually assaulted her before her death.
He has never been charged with any offence and denies responsibility. He is due to give evidence in the inquest.
Poppi's mother, who cannot be named for legal reasons, was the first person to give evidence at the second inquest at County Hall in Kendal.
The new inquest was ordered after a seven-minute hearing in 2014 determined Poppi's death was "unascertained".
Alison Hewitt, counsel for the coroner, asked the mother what Poppi was like.
She said: "[Poppi] was very alive, bubbly and funny. You knew she was there."
She also said she had a good appetite, regular naps and was starting to walk.
She said Poppi was like the family's "alarm clock" and usually woke "bright and early" every day between 05:30 and 06:00.
On 12 December, a recording of the mother calling 999 just before 06:00 GMT was played to the hearing.
She can be heard saying: "Come on baby, come on Poppi, keep going".
She can also be heard relaying instructions from the 999 call handler to Mr Worthington who was attempting mouth-to-mouth resuscitation and chest compressions.
She told the operator: "Ambulance please. My baby's not breathing, she's gone blue.
"She's not been well, on and off, last few days."
The call handler responds, asking her to keep calm before giving instructions to lie the child flat on her back, check her airways and begin CPR.
'Not breathing'
The mother tells her partner: "Oh my God. Two breaths, 30 pumps. Keep going until the ambulance arrives.
"Come on Poppi. Come on baby. Come on ambulance please. Please come on.
"What's wrong with her, Paul? She's not breathing."
Paramedics are then heard arriving in the background at the end of the call, which lasted up to 10 minutes.
More than an hour later, Poppi was confirmed dead at Furness General Hospital.
The day before, Poppi had started showing signs of a cold, which had already affected the rest of the family, the mother told the hearing.
During dinner that night Poppi "threw herself back and just screamed out", the mother said.
She said Poppi was "screaming as though something was painful" and as if she had a sore stomach.
After an unusual bowel movement, Poppi was fine, the coroner heard.
She said she had never found Poppi's pyjama bottoms.
The coroner asked her if she had specifically looked for them and she said she had.
The mother later told the inquest she did not know an allegation had been made that Poppi had been sexually assaulted when she made the statement.
Ms Hewitt also asked the mother about injuries discovered in Poppi's post-mortem examination including a fractured leg.
She said she did not know what caused them.
Gillian Irving QC, who represents the mother, asked her if Poppi was ever taken into her parents' bed.
"No", the mother replied.
She said Poppi was too small and was at risk of suffocation if she was put in the bed with the adults.
Nicola Lynn, the paramedic who attended the house, said as soon as she saw Poppi she could see the girl was in cardiac arrest.
Tests in the ambulance showed she no longer had a pulse.
Once Poppi had been removed from the ambulance Ms Lynn said she could see "bright red" blood on the sheet where she had been lying.
She said Mr Worthington travelled in the ambulance with Poppi and he said: "She's gone hasn't she."
Ms Lynn later saw him at the hospital and she said he appeared "shell-shocked".
The hearing, which is expected to last three weeks, continues.