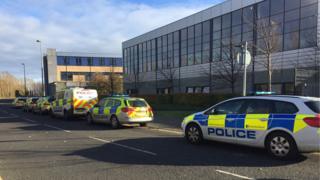 A police officer has been stabbed in the grounds of a college in Edinburgh.
The man was stabbed in the back at Edinburgh College in West Granton Road at about 09:30.
Police had been called following reports of a student threatening to harm himself and others.
The police officer was taken to Edinburgh Royal Infirmary with a non life-threatening injury. A man has been detained in connection with the incident.
An area behind the canteen has been cordoned off by police.
Classes continuing
Police Scotland said the incident was being treated as an isolated case.
Andrea MacDonald, chairwoman of the Scottish Police Federation, said: "I would like to commend the bravery of all of the police officers who attended this incident, undoubtedly their actions in protecting the public prevented further injuries or even fatalities.
"However, whilst all details are still to emerge, once again it appears that we have Scottish police officers not suitably equipped to deal with an incident where an individual is armed.
"Our thoughts are with the police officer who was injured and his family and colleagues at this time."
Classes are continuing and have not been cancelled.