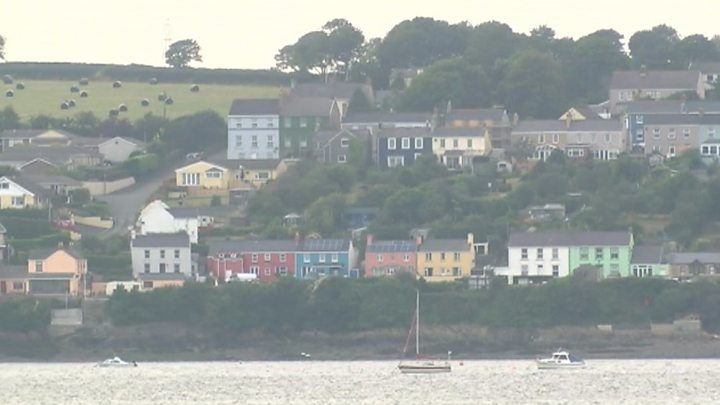 Council tax could leap by 12.5% in Pembrokeshire in a move being "seriously considered" by the council.
Bob Kilmister, cabinet member for finance, said a large rise was needed to fill a £3.5m shortfall in next year's budget and was preferable to further cuts.
The cabinet of the independent-run authority met on Monday to discuss it.
There is no official cap on council tax rises, but an informal limit of 5% has been set by the Welsh Government.
However, this has never been challenged – and Mr Kilmister admitted he had no idea how the government would react.
"At the present moment it is a consideration of whether we cut services in a draconian manner or we take the lowest council tax in Wales to an acceptable level, but it will cause pain and suffering for people," he said.
Mr Kilmister said the authority had suffered for having the lowest council tax in Wales. He said: "I do not think there is an appetite for more cuts that really hurt."
On Monday the Pembrokeshire cabinet – made up of senior members of the authority – agreed to two options to be scrutinised by the rest of the council, either:
a 12.5% rise, accompanied by £13m worth of savings already identified
a 5% rise, with even greater cuts to services
A Welsh Government spokesman said: "Councils need to consider carefully the impact of ten years of UK government austerity on people's incomes."
Pembrokeshire had the lowest total council tax bill in Wales in 2017/18, at £1,128 for a band D property. After the shares that go towards funding community councils and the police are removed, a total of £883 goes to the county council itself.
The highest band D council tax bill is £1,754 in Blaenau Gwent, while the Welsh average is £1,420.
Earlier in November, about half of the councillors in Pembrokeshire took part in an informal ballot on council tax for next year.
Nearly half of those who took part supported a 10% rise while a fifth supported a 30% increase.
Readers on our BBC Wales News Facebook page were asked if they would prefer higher council tax or fewer services.
Angie Paddick said she did not think she got "full service now".
"State of roads, lack of hedge cutting and rubbish collections being cut and that's just a few things," she said.
Steve Swinhoe said he wanted "better services with no tax rises".
"If the super rich, and large companies paid what they were supposed to, there wouldn't be a funding crisis," he added.
"Cut the services, go back to basics, and only the basics," said Christine Vorres, while Simon Waller said he pays "enough already" and does not "get much for it"
"Why pay more for less?" he asked.
Pembrokeshire is led by David Simpson, who is unaffiliated to any party but is backed by Labour and Plaid Cymru councillors.
A draft budget will be published on 14 December and scrutinised by the authority before a final decision in March.
In the meantime, officials have been told to continue to look at options to cut the budget.
The authority will also write to the Welsh Government outlining the state of its finances.
It is unclear how ministers would respond to any proposal to break through the unofficial 5% limit and whether it would set a precedent for other authorities to follow.
The Welsh Local Government Association said councils were having to make "very difficult decisions" in the face of cuts in government funding "to maintain the quality of services expected by residents".
Welsh Conservative local government spokeswoman Janet Finch-Saunders said residents should not have to make up for a shortfall in Welsh Government funding.
She added: "I have every sympathy for the financial plight of the authority, but I would hope that the council would look more closely at shared services and red tape before imposing unprecedented council tax hikes on hardworking families."
Analysis by Nick Servini, BBC Wales political editor
No-one is under any illusions about how tough a sell a double-digit council tax increase would be in Pembrokeshire.
The defence will be that the county has enjoyed unusually low levels in recent years and now is the time to bring it in line with the rest of Wales.
There are some striking differences between Pembrokeshire and places like Blaenau Gwent on band D levels, although it is worth pointing out that there are comparatively fewer people in that category of property in the heads of the valleys.
The big question is whether it forces the Welsh Government to move away from the carrot of a voluntary arrangement of 5% to the stick of bringing in new capping powers.
And then how will other local authorities respond? Most councils appear to be coming in below 5% at this point but all eyes will be on Pembrokeshire to see if it changes the dynamic.