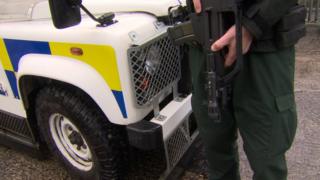 Loyalist paramilitaries, the Ulster Volunteer Force, have been targeted in police raids in greater north Belfast.
The PSNI carried out 13 search operations in residential and business premises in the city and Newtownabbey over two days.
PSNI Inspector Heather Whorisky said their specific focus was the UVF and criminal activities linked to it.
"These types of organisations, criminal groupings, target the most vulnerable," she told BBC News NI.
"They have a range of activities such as money lending, drugs offences, firearms, paramilitary-style attacks.
"They really are a blight on society and on the communities that they hold an influence over. These communities are in fear of these people."
Insp Whorisky appealed to people to provide information.
"We are working very hard to try and rid these communities of these paramilitary groupings," she said.
"I do understand the fears that people have, but there are various means of providing information including reporting through the anonymous charity, Crimestoppers.
"While people might not see all the police actions immediately, we do make every effort – working behind the scenes on information we receive – in order to tackle the grasp and hold that these paramilitary groups have on communities."
The police inspector said the UVF was just one of the groups targeted.
"Local communities may not be aware of all that we are doing," she said.
"This is something that we are particularly focused on and it covers loyalist and republican groupings. It is something that we are actively targeting."
Insp Whorisky said paramilitary activity was "a vestige of the history of Northern Ireland".
Police searches are continuing. So far, a woman and two men have been arrested and are being held for questioning.