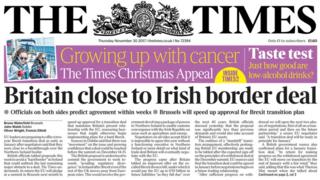 We don't normally cover the national papers in this review but are making an exception today as The Times' splash suggests: 'Britain close to Irish border deal'.
According to the paper, the government is prepared to offer a package of powers to Northern Ireland to avoid any divergence in trade rules and other regulations between Northern Ireland and the Republic of Ireland.
The paper says this would enable customs convergence on areas such as agriculture and energy.
It adds that sources in Dublin said there had been "movement" on the issue, and there was confidence a deal could be reached at the EU summit in December.
"Paisley criticised for 'shake Irish cage' remark" is the headline on the front page of The Irish News.
DUP MP Ian Paisley, speaking at a Westminster committee earlier in the week, said the "government's pussyfooting needs to stop" and the Republic should "start acting in a mature way".
Also on the front page, there is a photo of Glenavon's 14-year-old goalkeeper Conner Byrne in action.
Conner has become one of the youngest players to play in the Irish League, as revealed by BBC News NI on Wednesday.
Inside the paper, a four-page spread on Brexit brings readers up to date.
There is also an interview with the Republic's Minister for Foreign Affairs Simon Coveney, who tells the paper he doesn't think it is unreasonable for the Irish government to "demand clarity" on the border issue.
'An unfortunate mark of ignorance'
The News Letter also leads with Ian Paisley's remarks on the Republic's approach to Brexit.
The front-page headline reads: "Time to get tough with Dublin: Paisley".
The paper also reports that the assistant secretary of the Ancient Order of Hibernians (AOH), John Shanahan, has criticised the Tyrone branch of the AOH for comments made in Facebook posts.
Earlier this month the Tyrone branch commented on Facebook that they were "delighted" that no British military poppies were on display at a Tyrone primary school.
Although the Facebook posts were later deleted, Mr Shanahan said the comments were "an unfortunate mark of ignorance and respect".
'Not delivering value for money'
The Belfast Telegraph front page warns that more schools may close early due to budget cuts.
In response to Breda Academy announcing it will close early on Wednesdays in December, Justin McCamphill of the teaching union NASUWT warns that other schools are looking at "shortening their timetables".
The Belfast Telegraph also reveals that £17.3m per year is spent on empty desks in government offices in Northern Ireland.
The audit from the Northern Ireland Office shows that there 276 offices across government departments lie empty, and 1 in 5 desks remain unused.
Comptroller and Auditor General Kieran Donnelly says the current management of office buildings used by government departments "is not delivering value for money".
Mr Donnelly adds that only two out of 10 recommendations outlined in a previous audit have been fully implemented.
'Seal' you later
Truly making a splash on the front page of the Belfast Telegraph is Hans, a rescue seal who was released back into Ballintoy Harbour on Wednesday morning.
The photo shows the dewy-eyed seal taking to the waves.
Hans and another released seal, Albert, were both rescued by the team at Exploris Aquarium earlier this year.
The seals have been micro-chipped, which will allow their rescuers to keep track of their progress.
Peter Williams of Exploris Aquarium said they are used to an influx of seals this time of year.
"Unfortunately it's common for them to be abandoned by their mothers but malicious activity is also a reason so many end up in our care," he added.