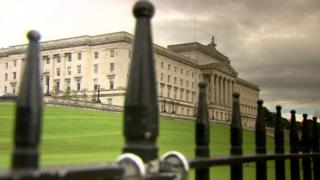 Next week's Northern Ireland budget will see an increase in health spending while a feared cash reduction in the education budget will not go ahead, according to figures seen by the BBC.
The budget will finally be passed into law using Westminster legislation due to the absence of a devolved executive.
The budget numbers were recently shared with the local parties.
In broad terms there is more money for health, but a squeeze on most of the other major departments.
In April, indicative figures suggested the education budget would be cut, causing an outcry from teachers and parents.
Since then various adjustments and reallocations have taken place and it now looks as though the education budget will be flat, when compared to last year's starting position.
It is still a tough budget with the extra money for health around the level the system needs just to stand still.
The figures were seen by the BBC's The View programme.