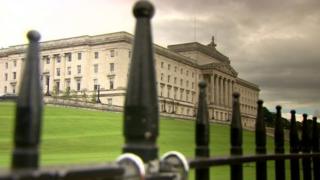 Northern Ireland's budget will be passed into law at Westminster later on Monday after 10 months without a devolved executive at Stormont.
NI Secretary James Brokenshire has said that the region's civil service will begin to run out of money if a budget is not in place by the end of November.
Talks between the Democratic Unionist Party (DUP) and Sinn Féin have failed to reach a deal.
The budget numbers were recently shared with the local parties.
The figures, seen by the BBC, include an increase in health spending while a feared cash reduction in the education budget will not go ahead.
In April, indicative figures suggested the education budget would be cut, causing an outcry from teachers and parents.
Mr Brokenshire has said he would be willing to withdraw the budget bill if an executive is formed before December.
The budget will only deal with the 2017-18 financial year.
---
Analysis: Mark Devenport, BBC News NI political editor
Is this direct rule or not direct rule? It depends who you talk to.
The SDLP says it is rule, and blames the DUP and Sinn Féin.
Alliance says it is a "slippery slope" towards direct rule, but both James Brokenshire and Theresa May dismiss that.
James Brokenshire is fearful of "full-fat" direct rule because it would be very hard to get back out of it.
He might, therefore, try and get away with this halfway house solution, at least until the end of the year.
---
In a call to the DUP and Sinn Féin on Friday, Prime Minister Theresa May told the parties that Monday's budget bill was "absolutely not an indication of direct rule".
DUP deputy leader Nigel Dodds has said he wants direct-rule ministers running Northern Ireland "within weeks" if an agreement cannot be reached.
Sinn Féin President Gerry Adams said he told the prime minister that direct rule was not an option and called for the establishment of an intergovernmental conference involving London and Dublin.