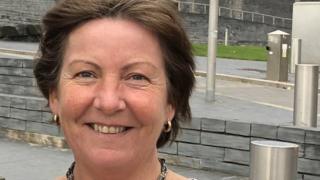 Newly-appointed AM Mandy Jones made herself an independent, UKIP Wales leader Neil Hamilton has claimed.
UKIP on Monday said it would not allow Ms Jones, who replaced Nathan Gill, to sit with its group.
But Mr Hamilton denied she was given a two-hour ultimatum to sack her staff, saying she had failed to get back in touch with colleagues after a meeting on the issue.
One of Ms Jones's staff accused Mr Hamilton of "getting back" at Mr Gill.
Mr Gill and Mr Hamilton were rivals for the leadership of the group following the election of the original seven UKIP AMs – the group now has five left.
Mr Hamilton told the Good Morning Wales programme on BBC Radio Wales that claims in Wales Online were "completely untrue" that Ms Jones was given a two-hour ultimatum at a group meeting on Monday.
"The two-hours was hers, actually," the UKIP group leader said.
"We had a group meeting on Monday which lasted an hour and a half to discuss this.
"At half-past six she said give me two hours to make my mind up. We didn't hear anything from her ever again.
"At nine o'clock the following morning the presiding officer of the assembly wanted to know whether she was in our group for the purposes of seating in the chamber.
"I'm afraid Mandy has effectively made herself into an independent and will be sitting on her own, presumably for the next three and a half years."
UKIP had claimed on Tuesday that Ms Jones had chosen to employ people who were members of other parties, or had recently campaigned for other parties, or both.
Mr Hamilton said: "It seems to be me to be a pretty unexceptional request that you employ staff who are loyal to us, rather than to somebody else."
He claimed "the main point was that one is a Conservative, one joined an Independent group in Newport".
"They both campaigned against UKIP in elections and they both said very unpleasant and insulting things about me and other members in the group in public," Mr Hamilton said.
"I very much hope – they're all on temporary contracts – that she'll see sense," he added.
Llyr Powell, one of Ms Jones's staff members who previously worked for Mr Gill, said there were lots of people who worked for assembly members who were not active in the party the AM represents.
He said he had been a member of the Conservatives "in the past".
Mr Powell told BBC Wales that there had been staff in the office who had been "campaigning for independent groups in council elections", but said none had been "campaigning against a political party".
He argued the move by Mr Hamilton was his way of getting back at Mr Gill.
"That's the only reason I can see. The relationship was fine up until that moment," Mr Powell said.
"People are misunderstanding our contracts. Our contracts are temporary and were there to help with the transition period," he said.
A senior UKIP source has called for "cool heads" in the row.
"There has to be a better way of dealing with this than shouting from the rooftops," the source said.
Mr Hamilton also told BBC Radio Wales he was confident a row between UKIP AM Gareth Bennett and presiding officer Elin Jones about comments Mr Bennett made about transgender rights would be "sorted".
The dispute led to Ms Jones informing Mr Bennett he would not be called to speak in 2018.
"I have had a meeting with the Llywydd [presiding officer] and we've discussed it in general, and I can't I'm afraid give you the details of our discussions," he said.
"But I'm confident this will be sorted out to everyone's satisfaction to an early stage."