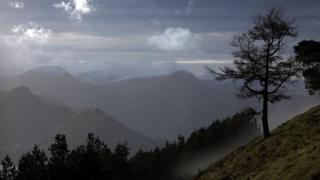 The Lake District is on the verge of joining the likes of the Grand Canyon, the Taj Mahal and Machu Picchu by bidding to become a Unesco world heritage site.
A decision on the national park's application is due to be made by a Unesco committee in Krakow later.
A report to the committee recommends adding the Lake District to the list.
If approved it would be the 31st place in the UK and overseas territories on the Unesco World Heritage List.
Other sites include Stonehenge, Durham Castle and Cathedral and the city of Bath.
About 18 million people visit the Lake District each year spending a total of £1.2bn and providing about 18,000 jobs.
It is home to England's largest natural lake – Windermere – and highest mountain – Scafell Pike.
Nigel Wilkinson, managing director of Windermere Lake Cruises is hopeful the Unesco status would put the Lakes on an international level.
"What we really hope is it will act as an economic driver and will grow the value not the volume of tourism by giving people more aspects to consider, [and] reasons to make day visits and sustained visits."
Harriet Fraser, a writer and patron of Friends of the Lake District, said: "It's the most beautiful district but it has a very deep culture which is largely hill farming but also conservation."