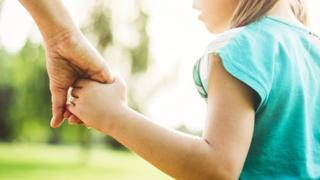 The Scottish government's controversial plan to bring a named person scheme into operation is facing more delays.
Holyrood's education committee wants more assurance that information-sharing aspects of the policy comply with human rights law.
Convenor James Dornan has told Education Secretary John Swinney that MSPs cannot yet recommend parliament approves the legislation in principle.
They called for an "authoritative" code of practice on information sharing.
A spokesperson for the Scottish government said it would carefully consider the letter and respond in due course.
Ministers want to appoint a named person, usually a teacher or health visitor, to be responsible for ensuring the welfare of every child.
The plans were held up when the Supreme Court ruled that information sharing sections did not comply with the law.
Changes to the legislation are now being considered but the latest development is likely to delay the process.
In his letter to the education secretary, Mr Dornan, an SNP MSP, said: "Based on the evidence heard to date, the majority of the committee do not consider that they are able to make a decision on whether to recommend that the general principles of the bill be approved at Stage 1 until the Scottish government has provided the committee with an authoritative draft of the code.
"By an authoritative draft, the committee means a draft that reflects changes in data protection law which will result from the passage of the UK Data Protection Bill and the subsequent Scottish government consultation on a draft code."
'Ditch the bill'
Liz Smith, a Scottish Conservative MSP who also sits on the education and skills committee, called on the government to abandon the bill.
She said: "This situation is serious and it is a damning indictment of the SNP's failure to understand what practitioners have been saying to them, namely that the bill is full of holes and does not fully address the findings of the Supreme Court.
"In particular, the illustrative code of practice – instead of providing assurances – has raised many more concerns, some of them relating to practitioners' legal responsibilities.
"The best way out of this mess is for the Scottish government to ditch the bill and completely rethink how we should be supporting our most vulnerable children."
Labour education spokesperson Iain Gray said: "The shambolic, incompetent roll out of this policy by Angela Constance and now John Swinney just goes from bad to worse.
"With yet more questions to be answered, a clear failure to address the committee's concerns and no tangible progress in building public trust, there have to be questions now as to whether this policy is saveable at all."