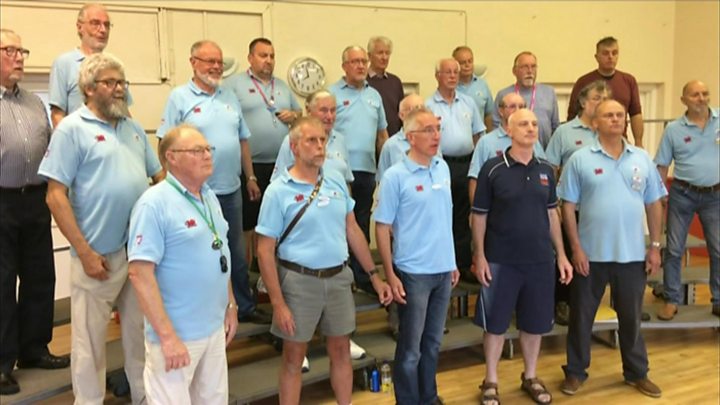 A Welsh barbershop chorus celebrating its 30th anniversary is looking for new members to help it stay in harmony.
Flintshire's Mold Barbershop Harmony Club, which sings as The Clwyd Clippers, wants more men to join.
It has performed across Britain and abroad, once finishing fifth at the British national barbershop chorus competition.
Rhiannon Owens-Hall, who has directed the group since its formation, said: "It is great to be a Clipper."
It is one of only a few groups in Wales specialising in American barbershop singing – a style of a cappella close harmony or unaccompanied vocal music.
Richard Heaton, the society's chairman, said American barbershop singing's attraction is "the challenge" and its unique sound.
"It's different because of the harmonies that it creates. It's a sound that you appreciate when you're in it," he said.
"There are not many forms of music that, when you're singing it or hear it, it literally makes the hair on your arms stand up."
The society is celebrating three decades of song after its inception in 1987.
Life president, Rod Sherratt, who moved to the area in 1979, said it all began when he and a friend put an advert in the local newspaper, saying: "Wanted: Men who would like to sing barbershop."
He said they did not know what to expect.
"Lo and behold, two weeks later, 25 men turned up to Theatr Clwyd in Mold and said 'we want to sing barbershop'," he added.
The chorus has had as many as 60 members at one time, but today it has a singing strength of about 35.
In a bid to lure in some new voices, the group is planning taster courses in the autumn and Ms Owens-Hall urged people to come along and give it a go.
She said: "We are as busy as ever preparing for, amongst other things, a choral competition in the Isle of Man in October, a church concert in November and a joint show with our sister chorus, Mountain Harmony [also from Mold] prior to Christmas."