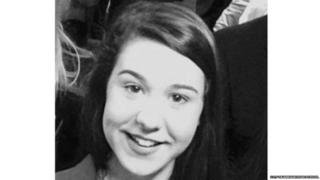 An 18-year-old man has admitted causing the death of Armagh teenager Lesley Ann McCarragher in April 2016.
Nathan Finn, whose address was given as Hydebank Young Offenders Centre, appeared at Newry Crown Court on Monday and pleaded guilty to causing death by dangerous driving.
Miss McCarragher, 19, was jogging along Armagh's Monaghan Road when she was struck by a car which did not stop.
Finn and another man were later charged in connection with her death.
Detectives have been investigating the alleged movements of two cars.
Standing in the dock wearing a grey sweatshirt and jogging bottoms, Finn looked up only to reply "guilty, your honour" as each of seven charges were read out.
The judge explained that a sentence could not be handed down until the completion of the trial of Finn's co-accused, Damian Paul McCann, which begins on 5 March.
Until then, Finn will remain in custody.
Mr McCann, 30, of Monaghan Road, Armagh, pleaded not guilty last month to causing Miss McCarragher's death by dangerous driving, and is remanded on continuing bail.