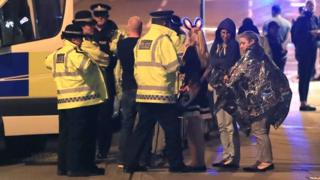 Eyewitnesses have described the terror of a suicide bombing at a concert in which 22 people were killed and 59 injured, including children.
The blast at Manchester Arena happened at 22:33 BST on Monday following a pop concert by the US singer Ariana Grande.
Political parties in Wales suspended general election campaigning on Tuesday.
Vicky Pickavance from Bangor, Gwynedd, who was at the concert, described a "massive bang" and then chaos.
Police have set up an emergency telephone number in response to the attack: 0161 856 9400.
Relatives have been using social media to hunt for missing loved ones.
Greater Manchester Police said the lone male suicide bomber, who died in the blast, was carrying an improvised explosive device which he detonated.
Ms Pickavance, who was at the concert with her daughter, Sadie, 12, said: "There was a massive bang. By the time I turned my head it was literally like a scatter of ants or something. All these children running down and screaming down the stands.
"To start with I thought the balloons had gone off and then it got a bit more hectic. People were actually jumping seats and stuff.
"My daughter was panicking. I said: 'Let's get out of here'. So I jumped some seats and pulled her down. And when we came around the corner I turned and saw massive plumes of smoke coming towards us. So I grabbed my daughter as tight as I could and there were stewards shouting 'this way, this way'.
"There was screaming crowds everywhere, screaming kids everywhere, like something you'd see on TV, out of a movie, not reality."
The explosion occurred shortly after Ariana Grande left the stage at the arena – Manchester's largest indoor venue with a concert capacity of around 21,000.
Sian Williams, 17, from Wrexham, was leaving the concert with a friend when the blast happened.
She said: "We were going towards the back when I heard a loud explosion, everyone thought it was a balloon as there were balloons released at the end, but then everyone was screaming and running away from a certain door.
"Everyone was just crammed at the front, we heard another two shots or something. I was scared. I didn't know what to do.
"We just got into the crowd and ducked down. We thought if we were in there we would be safer. We were like that for five minutes, then the security said just 'leave like normal, everything is okay'."
Vanessa Brown, from Buckley, Flintshire, was picking up her nephew, Benjamin, 18, and 12-year-old daughter Emily from the concert when she helped an injured girl.
She said: "I had gone shopping while they went to the concert and was waiting to pick them up in my car. It was just like a big bang, like there were fireworks.
"My nephew and my daughter came round the corner and were distraught. They had been on the front steps of the arena close to where it happened.
"I saw a girl who had hurt her leg and tried to help her, but when I phoned the ambulance they were just too busy to answer the call to begin with.
"Then a police officer came by and I told him she was hurt, he asked me if it was life-threatening, but when I said no they just passed us. In the end she was taken to a triage centre at a nearby police station."
Security expert Lee Doddridge told BBC Radio Wales police would be extra-vigilant at the Champions League final on 3 June in Cardiff's Principality Stadium.
He said: "The time when there is vulnerability is after the event will be when the train station will be ram-packed with people, queuing. People will leave en mass while the event ends and that is when we need to watch out."