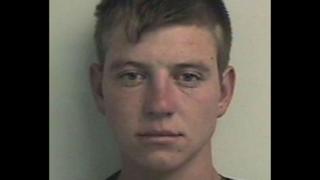 A man who raped a 14-year-old girl outside a supermarket has been jailed for nine years.
Twenty-year-old Samuel Ciornei attacked the victim in a car park behind an Iceland supermarket in Barrhead.
The Romanian national had been in Scotland just three weeks when he committed the offence on 7 August 2016.
Sentencing Ciornei at the High Court in Glasgow, Judge Kenneth Maciver called the attack "disgusting and pre-planned".
The court heard that Ciornei watched the girl as she cycled to Asda Barrhead, East Renfrewshire, to buy sweets. While she was inside he deflated her tyre so she could not cycle away.
He followed her as she pushed her bike and appeared to offer to help with the flat tyre.
Piece of glass
He then threatened her with a piece of broken glass at her throat and dragged her into bushes, where he raped her.
The schoolgirl said in evidence she cycled Asda to buy sweets and chained her bike outside when she saw Ciornei sitting nearby.
When she returned to her bike she noticed it had a flat tyre and walked it to the nearby Iceland supermarket car park to inspect it.
She told prosecutor Iain McSporran QC that Ciornei who was wearing a "really distinctive hat' gestured that she needed a hand pump.
She said he did not think he spoke English. He put her bike on the ground and took the dust cap off the tyre and put it in his pocket.
She said: "When he put the dust cap in his pocket he pulled out a medium sized piece of glass.
"It was brown and quite jagged. He then put the glass up to my throat, he grabbed my hair and then he gestured for me to go to the bushes."
Asked why she went in, the witness said: "Because I was scared."
CCTV footage played to the court had captured Ciornei "directing or pushing" the girl into the bushes before disappearing after her.
Judge Maciver said: "This was a disgusting and disgraceful sexual assault on a entirely innocent and unsuspecting 14-year-old girl who was out cycling on a quiet summer's evening last year.
"This appalling attack also has a sinister edge to it. I am clear on the available evidence this was no chance encounter. It was planned and premeditated.
"It can't be a coincidence that when this girl came out the shop she had a flat tyre. I am clear you deflated the tyre.
"When she stopped to check her tyre, within 40 seconds you were beside her and offered to pump up her tyre. After a further 30 seconds you produced from your pocket a sliver of broken glass."
Judge Maciver said that Ciornei should be sent back to Romania at the end of his sentence.
He was also placed on the sex offenders register after being found guilty at the trial last month.
Defence counsel Geoff Forbes said that Ciornei maintains he did not rape the girl.
Mr Forbes said: "He is a first offender. Standing the verdict of the jury there is nothing I can say."
He said that Ciornei intends to return to Romania on completion of his sentence.