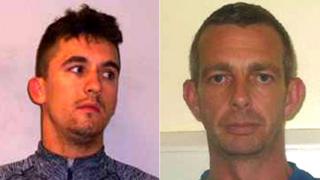 A man caught with almost £40,000 of drugs money in shoebox – who told police he was a snake breeder and it was for pythons – has been jailed.
Ian Austin's box was analysed and fingerprints linked him to co-accused Daniel Adams, who was caught with cannabis resin with a maximum street value of more than £300,000.
Adams was caught with 97kg of drugs on the M74 near Bothwell, Lanarkshire.
Austin was jailed for 43 months and Adams for 58 months.
Both men had admitted being concerned in the supply of drugs.
Adams, 25, from Aberdeen, was seen leaving a flat in September last year in the city's Balgownie Court carrying a rucksack and giving it to Austin, 38, from Liverpool, who drove off.
Austin's car was stopped and searched, and £39,920 in cash was found in the shoebox inside the rucksack.
'Wrong choice'
During a police interview, Austin initially said: "I breed snakes and came from Liverpool to Aberdeen to supply a man with snakes."
He said in exchange he received the shoebox which he "assumed" contained £40,000.
Adams was caught on the M74. When the car in which he was a passenger was searched the cannabis resin was discovered.
Austin's defence counsel Derick Nelson told the High Court in Glasgow his client owed money to drug dealers.
Ronnie Renucci, defending Adams, said: "He accepts he had a choice and made the wrong choice. He recognises he has let himself down and let his family down."
Judge Lady Rae told the men, who are both fathers: "This is an evil trade that you are involved in. Lives are blighted by drugs. You both played an important role this trade. What must your children think of you both? What sort of example are you giving to youngsters?
"I see the misery of drugs day in day out in this job and it is not a pleasant experience."
Police Scotland said it was a "co-ordinated covert operation between specialist teams based throughout Scotland".