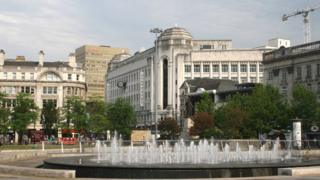 A man has survived a "frenzied" stabbing in a busy city centre.
Police in Manchester said it was "amazing" the 32-year-old victim, who has since been released from hospital, was not more seriously hurt.
Three people were arrested after the man suffered multiple wounds on Saturday in Piccadilly Gardens.
Police said: "It beggars belief that a frenzied attack like this can happen in the middle of a busy shopping area."
A 44-year-old man has been arrested on suspicion of attempted murder and is in custody.
A 40-year-old man arrested on suspicion of assault also remains in custody.
A 24-year-old woman was arrested on suspicion of conspiracy to wound with intent and has been released pending further investigation.
Det Insp Mark Davis said: "Given the nature of the assault it's amazing the victim didn't suffer even more serious injuries."
He appealed for witnesses to come forward: "Violence like this would have not gone unnoticed by shoppers and passers-by so I am confident there are witnesses out there."
He said police believed the victim and his attacker knew each other.