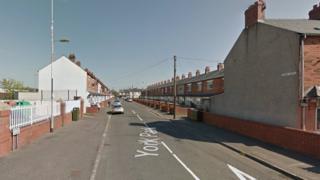 A 23-year-old man has appeared in court in Belfast charged with the attempted murder of two men.
It follows an incident where three men, all in their 20s, were stabbed in the north of the city at the weekend.
Ryan Collagan, with an address at York Park in Belfast, was charged with two counts of attempted murder.
Police were called to reports of a disturbance at York Park during the early hours of Saturday.
A police sergeant told the court he could connect the accused with the crime.
Mr Collagan appeared in the dock with a bruised face and cuts to his head.
A second man aged in his 20s and a 20-year-old woman, were also arrested in connection with the incident but were later released on bail pending further inquiries.
During the incident, one man was found with stab wounds to his head.
Another suffered a head injury and stab wounds to the neck.
The third underwent surgery for abdominal injuries.
Mr Collagan did not apply for bail and he was remanded in custody to reappear by video link on 19 December.