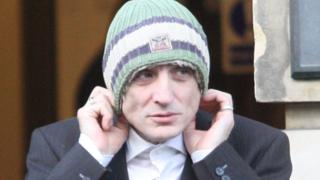 A man has been found guilty of violently raping a teenager in her Edinburgh home more than 20 years ago.
John Sinclair, 43, began his assault on the victim when she was asleep at a Muirhouse flat and continued it after she woke up.
Sinclair later claimed it was a sex game gone wrong but was found guilty of raping the woman on an occasion between April 1993 and April 1996.
The High Court in Edinburgh heard he will be sentenced in January.
Lord Armstrong told him he had been convicted of "a grave charge" and detained him in custody.
The judge also put Sinclair, from Edinburgh, on the sex offenders' register.
'Freezing cold'
The woman told the court that at the time of the offence she was a teenager and Sinclair had previously been violent towards her.
She said: "He was staying in the house because he had nowhere else to go."
She said he had been sleeping on a sofa while she slept on a bed settee.
She was preparing to go to sleep but said Sinclair kept asking if he could get in beside her because he was "freezing".
She said: "He wasn't going to do anything, he wasn't going to try anything, he just wanted to come in because he was cold."
The woman said she had eventually agreed to him getting in the bed settee but had turned her back and arranged a cover in between them.
She said she had fallen asleep but woke to find Sinclair assaulting her.
She tried to get him off her but he held her down.
She said: "I had no power whatsoever."
Sentence was deferred on Sinclair, who has previous convictions for violence and disorder, for the preparation of a background report.