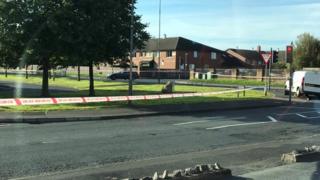 Two men have been assaulted on the Garvaghy Road in Portadown, County Armagh.
They were attacked by a group who were carrying weapons at about 04:30 BST on Sunday. The two men received head injuries and are being treated in hospital.
A 50-year-old man has been arrested on suspicion of attempted murder.
Police said that a burned-out car, believed to be related to the assault, was later found on the Drumnagoon Road.
A police cordon was in place on Sunday morning but has now been removed and the road has been reopened.
SDLP Councillor Declan McAlinden has condemned the attack
"Residents have woken up to the shocking news that two young lads were assaulted coming home from a night out.
"It appears to be a random attack, and it's a worrying attack.
"The people in this community are a proud community, and they absolutely don't want this kind of activity in the area," he said.