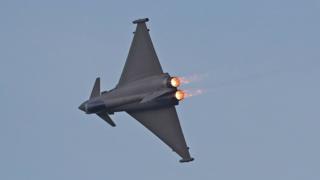 A military fast jet passed less than 100m above another aircraft after the civilian pilots "pushed the nose down" of their plane to avoid a collision.
The incident involving an RAF Lossiemouth Typhoon and a BAE Jetstream 41 happened on 14 June south east of Wick in Caithness.
Following an investigation a UK Airprox Board said various factors contributed to the near collision.
These included equipment called a transponder on the Typhoon not working.
The lack of the transponder, a situation not prohibited under regulations, affected the detection of the jet's altitude by radar.
Safety not assured
The cause of the incident in June, which saw the aircraft come within 91.4m (300ft) vertically of each other, was the late sighting by all the pilots involved in spotting each others' aircraft.
The pilots of the twin-propeller Jetstream aircraft said the Typhoon passed close enough for them to clearly see the markings on the jet.
Contributory factors included a lack of traffic information to the Typhoon pilot by a Swanwick-based air traffic controller.
Also, the Typhoon not having a working transponder meant a Moray sector air traffic controller had no altitude information on the fast jet.
The UK Airprox Board gave the incident its second highest rating, B, which means safety of the aircraft was not assured and may have been compromised.
Since the incident, the RAF has ordered that the jets do not depart from their stations when secondary surveillance radar is not available, other than for "exceptional operational requirements".